"My wife and I recently renovated our home and were left with loads of tile, cabinets and other debris. When we reached out to Garrett he was very quick to respond. The team showed up on time and did an excellent job at cleaning out our home. At first, cleaning up the debris in our home seemed like a daunting task, but Garrett made it easy. We are very satisfied with his work and would absolutely recommend him to anyone that needs their junk or debris removed. Thanks team!!" – Michael
We are Garrett and Megan Frix and we are a young family with three kids wanting to make a difference in our community. We have a life purpose of being others focused, and we feel fortunate to get to serve and love on so many great people through our business. It's a blast meeting our customers! Since Around Town Junk Removal's founding, we have met our goal: offer our customers high-quality junk removal services in the wider North Phoenix area. We take care of all the heavy lifting and work, so you don't have to. Just tell us what you want to get rid of and we show up in a big truck, with uniformed staff, to take away all your unwanted items. Our quick and cost-effective services can help you whether you need to remove clutter, junk, or trash. Call Around Town Junk Removal if you require any junk removal, including residential, commercial, appliance, e-waste, hot tub, furniture, attic cleanout, garage, or storage unit cleanout. We are transplants from the Pacific Northwest. We both were born and raised there until two years ago we moved to Arizona to pursue new opportunities and home ownership. We love living in North Phoenix and we are enjoying exploring the desert. Our kids are young still (12,10, and 2) they keep us busy with school, sports, and naptime, haha. We also have two puppies; Marley a one year old Berndoodle and Sedona a two year old lab mix. They are both all black and they definitely add to the chaos and keep things interesting. Everyone has a lot of energy to burn off! We have a lot of fun! We love exploring the area and taking Sunday drives as a family to different lakes, trails, parks, and playgrounds. We enjoy food and finding cool new restaurants to try. We like hiking, making YouTube videos. Our business is unique because we have great communication, follow-through and fair pricing. We provide the best customer experience possible. Happy customers make our day.
i. Don't get attached to your things. We see young people with very little. We see middle-aged people with too much. And we see old people trying to downsize. Get rid of things that don't serve their purpose for you anymore. We see so many people struggling to relieve themselves of stuff. It feels better to let things go.
ii. We have learned where to take all sorts of things for donation, recycling, and disposal. Email us with any questions.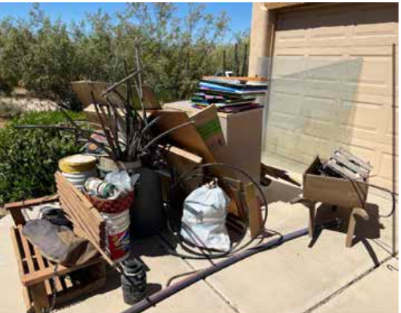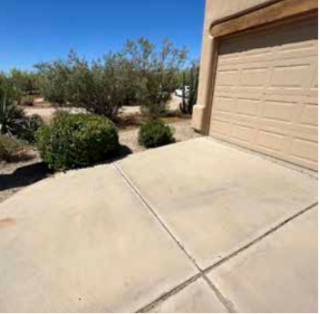 Ask yourself: Would you like your garage back? Are you tired of looking at a broken hot tub in your yard? Do you want more space in your closets? Do you have tree branches piling up? An old fridge or broken appliance in your garage? Remodeling, debris piling up? That's where we can help. We are grateful for our faith, family, and friends we make. We love that Stroll offers a real way to connect with neighbors on a local level. This journal promotes community and gathering to share life with each other. It is a win win win.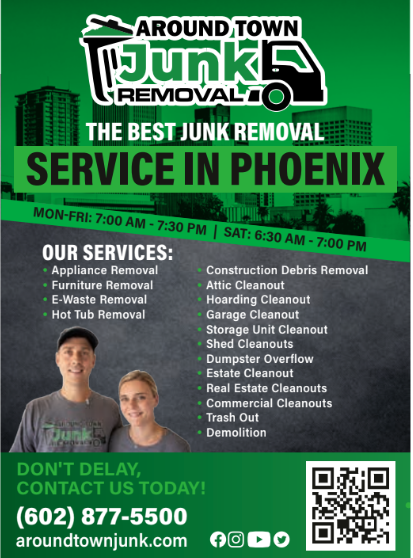 Contact Garrett and Megan Frix at
www.aroundtownjunk.com or 602-877-5500 or