One thing is certain about building and remodeling projects: getting rid of trash can be a hard job. Contractors in Phoenix, Arizona, often have to deal with huge piles of building waste that need to be taken away from their job sites in a safe and efficient way. Here's where Around Town Junk Removal comes in to make cleaning up easy.
The Building Boom in Phoenix
In recent years, there has been a building boom in Phoenix, Arizona. Contractors are busier than ever because new buildings are going up and old ones are being fixed up all over the city. Even though these projects offer chances for growth and development, they also bring a big problem: how to deal with and get rid of the building and demolition waste.
The Problem with Cleaning Up
Construction and remodeling jobs make a lot of waste, such as concrete, wood, drywall, metal, and other materials. Handling and getting rid of this trash the right way can take time, cost money, and be dangerous. Contractors need a trustworthy partner to help speed up the cleanup process and make sure they follow all local rules.
Around-Town Junk Removal: A Solution for Cleaning Up
Around Town Junk Removal is a local business that helps contractors deal with the problem of getting rid of trash. Here are some ways they can help you keep your job sites clean and running well:
1. Many years of experience
Around Town Junk Removal has been in the Phoenix area for years, so they know what contractors need. They have a history of dealing with construction waste in a responsible and efficient way, which makes them a trusted choice in the business.
2. Services that cover (almost) everything
Around Town Junk Removal has a wide range of services that are designed to meet the needs of contractors. Whether you need a small amount of remodeling debris or a lot of demolition, they have the tools and skills to do it all. Among their services are:
– Construction Debris Removal: They can quickly and safely remove all kinds of construction waste, from chunks of concrete to wood and drywall.
– Demolition Debris Removal: When it's time to tear down and rebuild, Around Town Junk Removal can clear away the rubble and debris, giving you a clean start.
They go above and beyond to make sure your job site is clean. Their team will sweep up and take away any leftover trash to make sure the work area is safe and clean.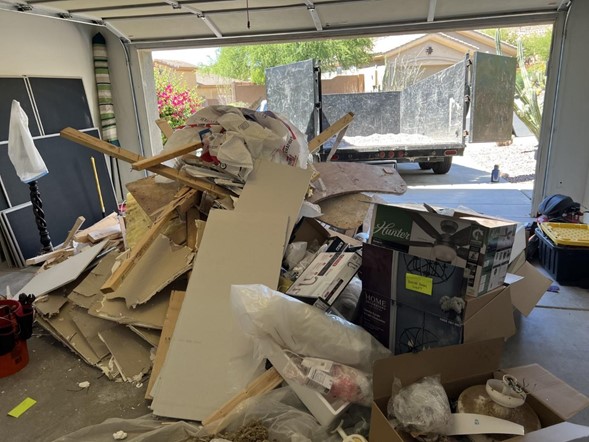 3. Methods that are good for the environment
Around Town Junk Removal is committed to using disposal methods that are good for the earth. They work hard to recycle and get rid of things in the right way, so they have less of an effect on the environment. This pledge is good for the environment and helps contractors follow local rules about how to get rid of trash.
4. Saves time and money
Time is money, and contractors know this. By having Around Town Junk Removal clean up the mess, you can focus on your main building tasks while they take care of the clean-up. In the long run, this could save a lot of time and money.
5. Ease of use and effectiveness
Around Town Junk Removal is proud to be a trustworthy partner who shows up on time and gets the job done well. They know that contractors have tight schedules and that delays in cleaning up can throw off the whole project's schedule. With Around Town, you can count on service that is quick and easy to work with.
6. Knowledge of the area
As a local business, Around Town Junk Removal knows the rules and laws of the Phoenix area. This means that you won't have to worry about waste disposal compliance problems.
How it Works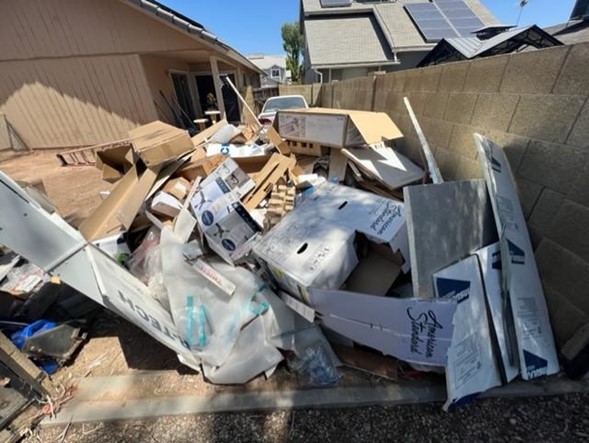 It's easy to work with Around Town Junk Removal:
1. Get in touch with them. Talk to their friendly team about your project's needs, such as the type and amount of trash that needs to be cleared. Text pictures of the debris and the address of the job site to 602-877-5500 or email [email protected].
2. Get a Quote: They will give you a competitive price quote depending on how much work needs to be done.
3. Set up a pickup time: When you're ready, set up a pickup time that works with your project plan.
4. Efficient Removal: Their experienced team will come to your job site and quickly remove all debris, leaving your site clean and ready for the next part of work.
5.Responsible Disposal: Around Town Junk Removal takes care of getting rid of the junk in a way that is good for the environment. When possible, materials are recycled.
6. Peace of mind: With Around Town Junk Removal on your side, you can focus on your construction project knowing that the debris removal is in good hands.
In the end,
In the fast-paced world of building and remodeling in Phoenix, AZ, it is very helpful to have a trusted partner for getting rid of trash. Around Town Junk Removal gives workers an easy, affordable and environmentally friendly way to deal with debris removal. With their knowledge and dedication to doing the best job possible, they make construction cleanup easier. This lets workers do what they do best, which is building a better future for Phoenix.
Don't let construction debris get in your way. Contact Around Town Junk Removal today and see what a difference it can make to your building projects to have a partner who is committed to removing debris.
Text pictures of the debris and the address of the job site to 602-877-5500 or email [email protected].