In the middle of Cave Creek, Arizona, there is a secret gem that has been helping the community since 1994. Cactus Tees is a locally owned family business that has made a name for itself as a leader in embroidery and screen printing. Because they care about quality, personal service, and being involved in the community, companies like Around Town Junk Removal can trust them. Come with us as we explore the world of Cactus Tees, where quality and customer care go hand in hand.
A Tradition of Quality and Skill
In the world of embroidery and screen printing, Cactus Tees has made a name for itself. They have been at the top of this business for almost 30 years, using cutting-edge tools to make sure they get great results. Their commitment to making high-quality products at reasonable prices has made them a popular choice for both companies and people.
The "No Minimums" strategy is one of the best things about Cactus Tees. Cactus Tees is different from many of its competitors in that it accepts orders of any size, from a single shirt to large bulk orders. This method makes sure that everyone, from local businesses to individuals, can use their services without having to order more than needed.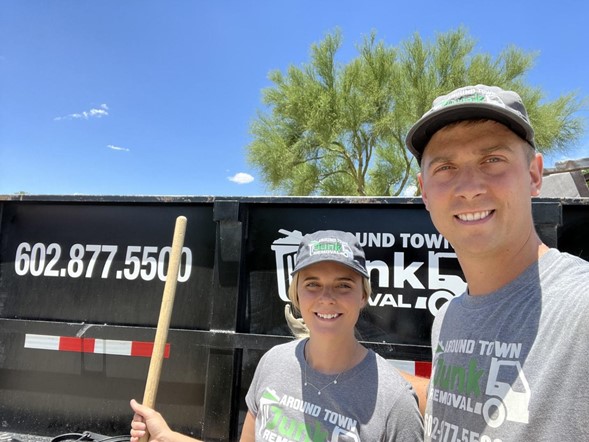 Different kinds of services
Cactus Tees is not your average business that does embroidery and screen printing. They offer a wide range of services to meet their clients' individual wants. Some of their most important services are:
– Embroidery: Precision stitching that gives garments a bit of elegance.
– Screen printing makes your ideas stand out with high-quality prints.
– Monograms: Add a stylish touch to your things by putting your initials on them.
– Digitizing and vectorizing: Turn your drawings into digital files for the best printing results.
– Tackle Twill patterns: With tackle twill, you can make beautiful patterns with different textures.
– Logo Design: Make logos that catch people's eyes and reflect your brand.
-Patches: Long-lasting, unique fixes that can be used for many different things.
– Personalized Items: You can change a lot of things to make them your own.
– Service Available in a Hurry: Need it quickly? Cactus Tees can do things quickly.
– Free Quotes: Make sure you know how much something will cost before you agree to it.
– Direct-to-garment printing uses cutting-edge printing technology to make images that are bright and colorful.
– Contract Embroidery Services: If you need embroidery work done, you can work with Cactus Tees.
– Graphic Design Service: Your thoughts will come to life with the help of skilled designers.
– Stickers: Versatile stickers that can be used in many different ways.
Their long list of services shows that they want to meet all your customization needs in one place.
What Can Be Printed? All of it!
Cactus Tees can print on a lot of different things, so your idea is the only thing that can stop you. They have everything you need, from basic clothes like hats, shirts, pants, and socks to stuff for sports teams, cheerleading, and dance lines. In addition to clothing, they can also help with stickers, window signs, and high-quality patches.
Cactus Tees has the skills and tools to make your ideas come true, whether you're a sports team looking for custom uniforms, a business in need of company apparel, or just a person looking for the perfect personalized gift.
Working together with Around Town Junk Removal
The fact that Cactus Tees works with Around Town Junk Removal shows how much they care about local businesses. As a family-owned business in the area, Around Town Junk Removal appreciates the quality, dependability, and personal touch that Cactus Tees offers.
Around Town Junk Removal gave Cactus Tees the job of printing their shirts and hats. By doing this, they not only got great goods, but they also helped a local business grow. This relationship is a great example of how Cactus Tees wants to help the community.
 Getting involved in the neighborhood
Cactus Tees has a long history in Cave Creek, and they make it a point to get to know their customers and neighbors. Their office in Stagecoach Village, Cave Creek, isn't just a place to work; it's also a place where people get ideas and work together. They like reservations, but they are always open to walk-ins, which makes them seem friendly and easy to reach.
The same is true of their online appearance. Their website, https://cactusteesaz.com/, lets buyers look at their services, request quotes, and learn more about the company. Their https://www.facebook.com/cactustees/ tells the community about their latest projects, promotions, and events. This gives their fans a sense of belonging.
How to get in touch
Here's how to get in touch with Cactus Tees if you're ready to experience the high quality and great service they offer:
Cactus Tees Embroidery and Screen Printing is located at 7100 E. Cave Creek Road, Suite 157, Cave Creek, AZ 85331.
Number to call: 480-289-9420
Monday through Friday (hours change, so call ahead)
Conclusion
Cactus Tees is more than just a company that does embroidery and screen printing. It is a local business that stands for craftsmanship, community, and good service. They have a long history that goes back to 1994, and they have always gone above and beyond for their customers. This makes them a reliable partner for companies like Around Town Junk Removal.
Their willingness to take orders of any size, their wide range of services, and their ability to print on almost anything show how much they care about their customers. Through their work with the people of Cave Creek and their online presence, they have become a well-known business in the area.
Cactus Tees is the place to go if you need embroidery or screen printing, or if you just want to support a local business that cares about quality and the community. They are more than just a printing company; they are a sign of the strong sense of artistry and community in Cave Creek, Arizona.